believe that good will happen....
do what you can to work for good, for peace, and love for all life...
we the people have the power....
those who do evil do so with the permission of our silence and our apathy!
this is the first examples of outward courage our family has shown....it is a picture of our house this fourth of july week (leading to the march on washington on july 12).... (this is the front of our house!)***click on picture to view fullsize display)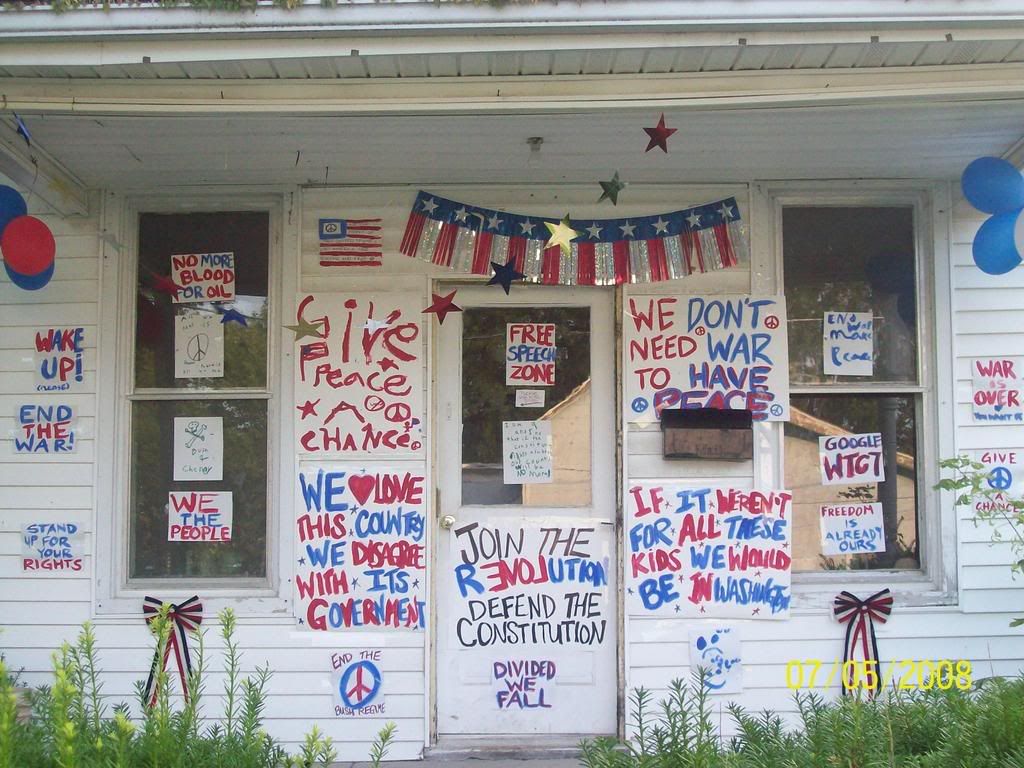 do anything! please! your fear is their fuel...this i know for sure.
there are only two choices that everything in the world functions from and those two choices are FEAR and LOVE...
they have NOTHING left to use AGAINST us but TERROR...they know they can't make us hate people enough...so they are using the most base human emotion and spiritual force that is the opposite of GOOD in order to SATURATE us into falling in line and staying silent and staying slaves to their evil agendas...
you know i am right. you know i am right. you know in your heart that what i say is true...don't you?
i would love to be wrong about this, but i have studied it long and hard...
choose love, choose peace, choose goodness, choose awareness, choose ACTION, choose WISDOM, choose COURAGE, choose RIGHTNESS, choose to listen to your own thoughts, have radical ideas for goodness and the power to carry them out!!!!
We will end this war...We will end the tyranny of evil men...We can choose right now, each and all of us to DO and BE and feel LOVE for ourselves, our fellow human beings, our planet, and our existence....